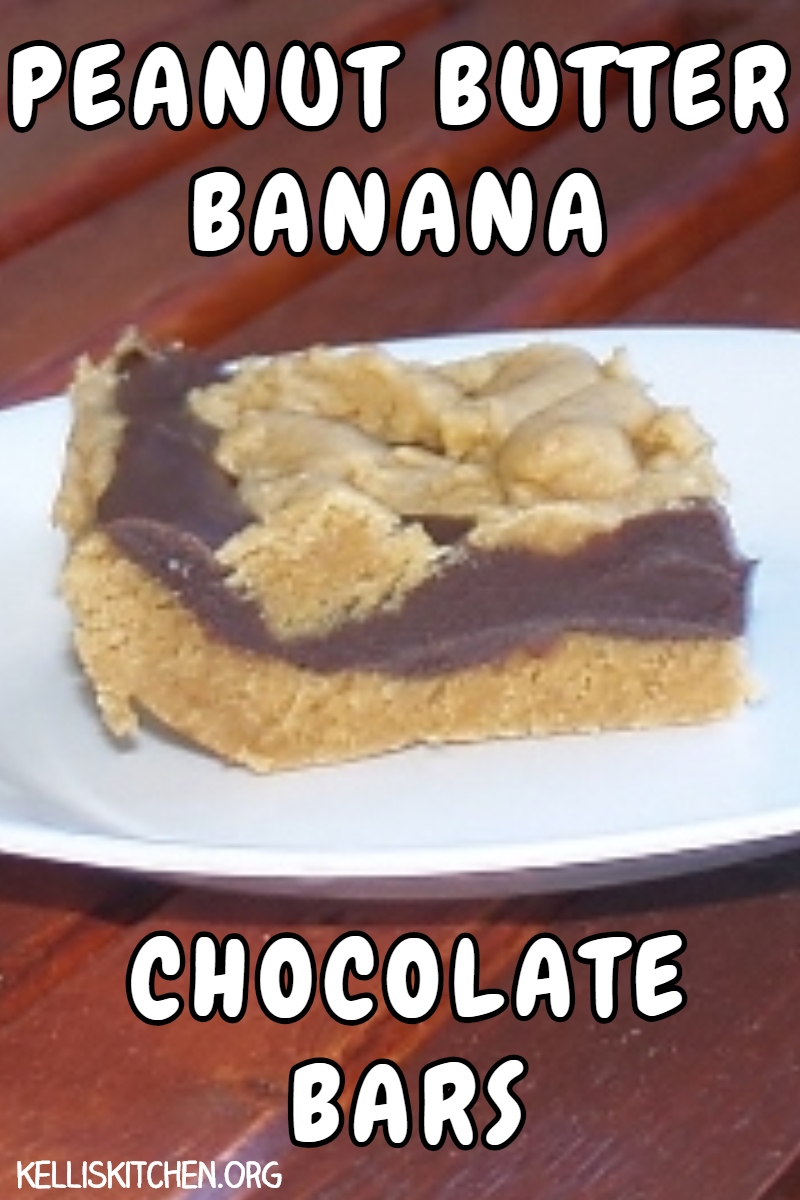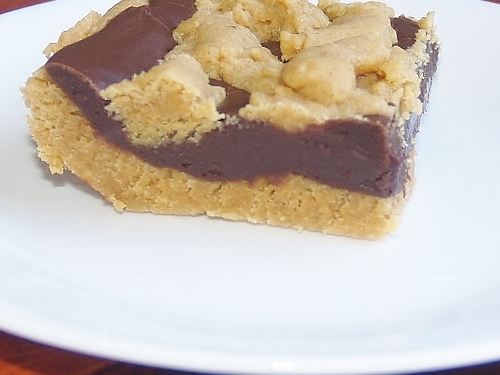 Today is Top Girl and Son-In-Law's anniversary. Yep, they have been married two years today. This is my favorite picture from the wedding. **All the pictures were taken by James Freeman and Ami Stearns of Distinct Photography. (the link doesn't seem to work so look them up on Face Book)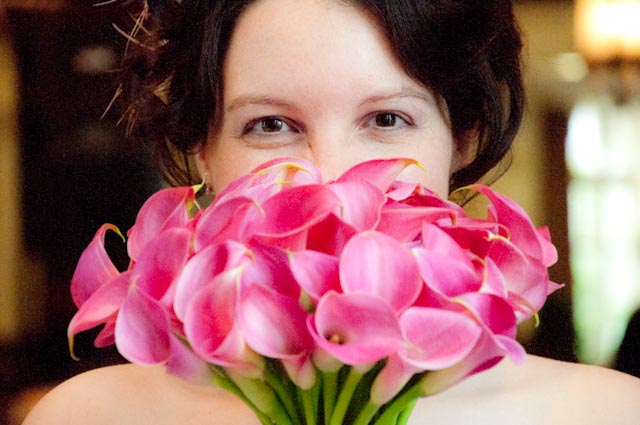 She ordered all the flowers from Sam's Club (like Costco) and made each bouquet, boutonnière and corsage herself. I found a box of plain clear tall drinking glasses at a yard sale and bought the box for $1. She made her own monogrammed stickers and bought ribbon to put on them and then put some more calla lilies inside for the tables. She designed and made her own invitations, stuffed the mint boxes and had Mr. Picky Eater and I buy her cake from a local grocery store.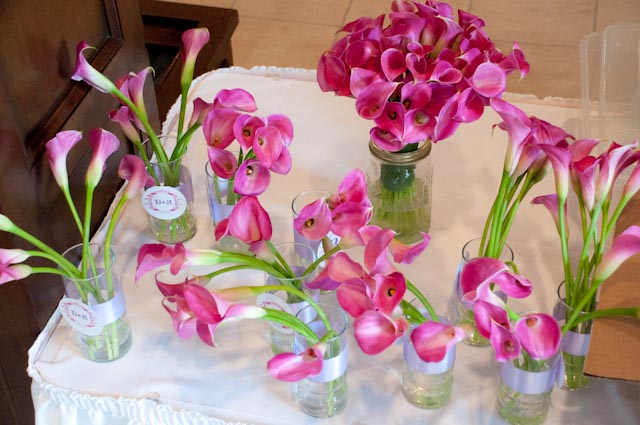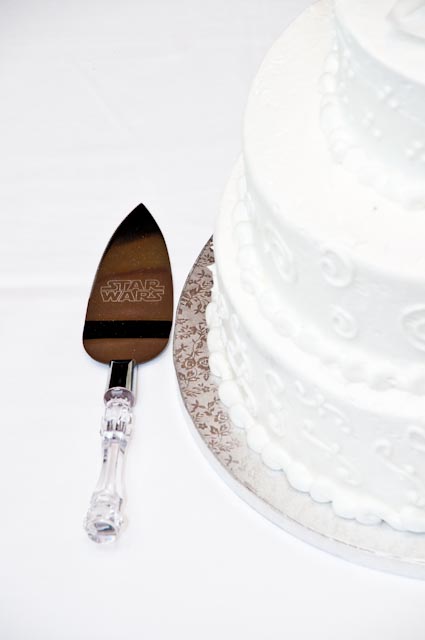 Yep, I had to look HARD to find Star Wars serving pieces.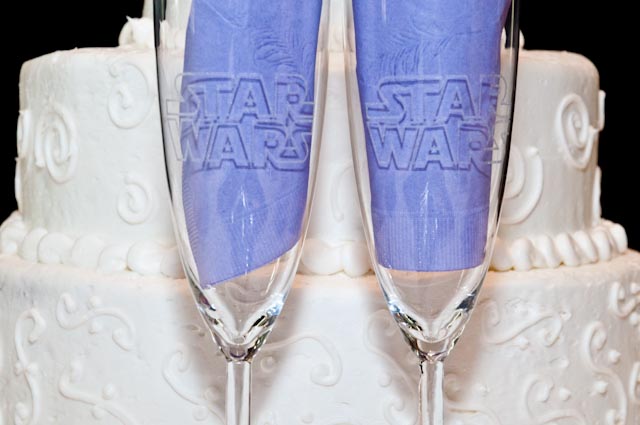 These glasses go with the cake.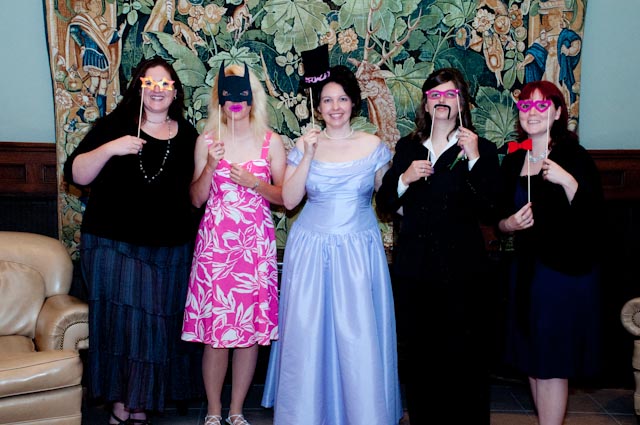 I found some empty picture frames at a yard sale (not shown) and she made these moustaches and masks for fun pictures – every one of these girls has either a Master's or PhD – look like it, don't they?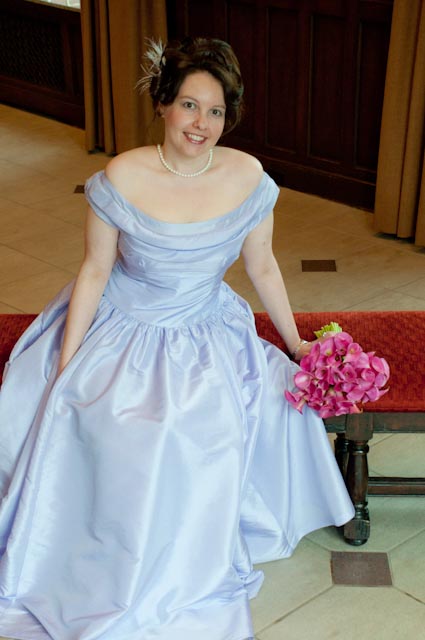 And with a vintage Vogue pattern from the 50's that was designed to resemble Jackie Kennedy's wedding dress (No lace, she said) so Mother Kalamity's best friend and next door neighbor (age 86 at the time) made her beautiful dress……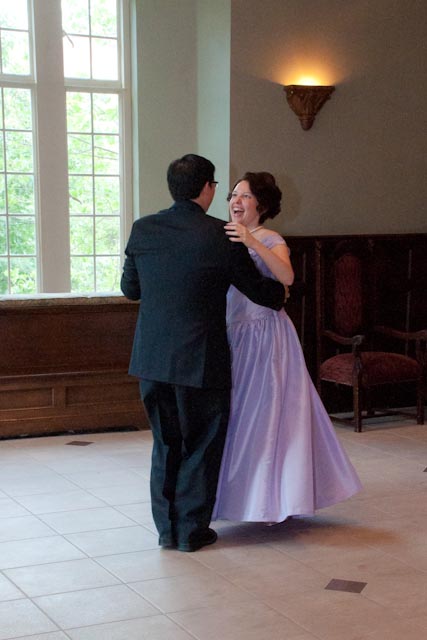 The wedding and reception was held at in the student union of the University of Oklahoma – where both graduated (Top Girl graduated from there twice!). Here they are taking in their first dance together….I was boo hooing on the sidelines.
Just a few more pictures and then the recipe…..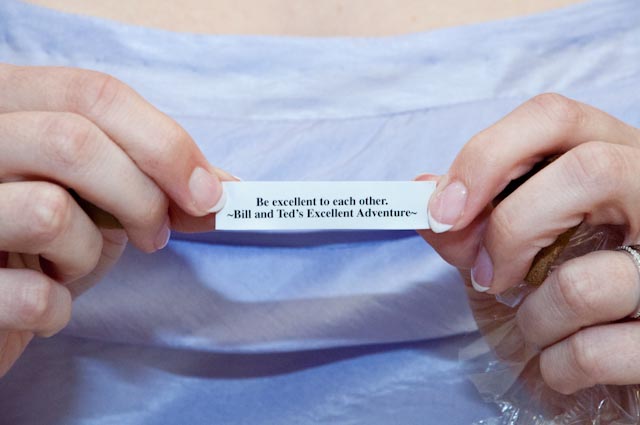 Top Girl and Son-in-Law made up all the fortunes in the fortune cookies they had made as favors.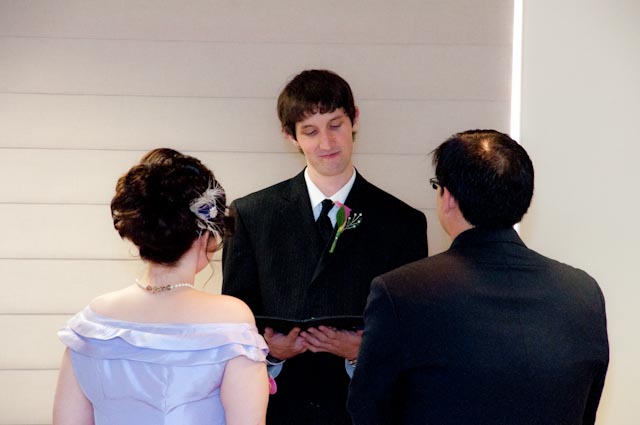 This is Wonder Boy (now known as Cowboy because he is over a livestock operation at a very large Ice Cream Store) marrying Top Girl and Son-In-Law. Cowboy and Mr. Picky Eater are ministers.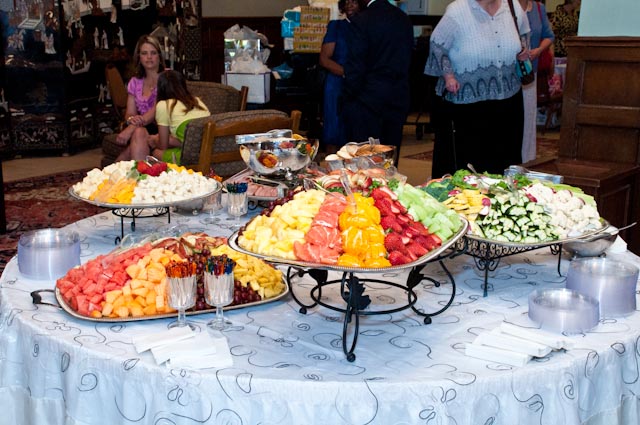 Behind the food you can see my co-worker and her daughter.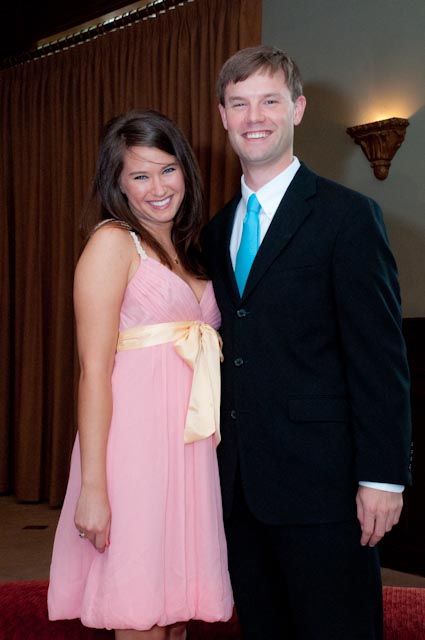 Who knew that two years later, we would be attending Minnie Mouse and Lawyer Boy's wedding?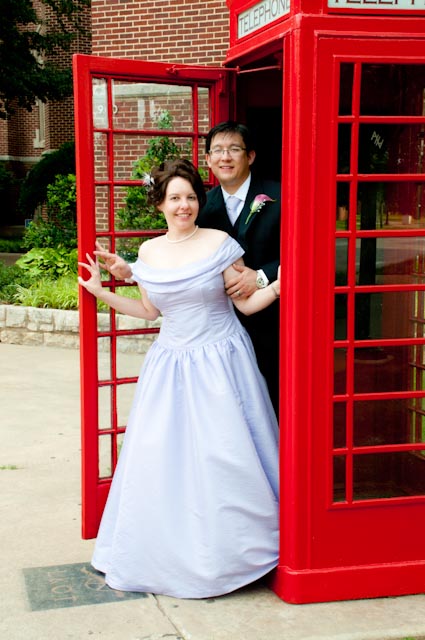 This is as close as they could find on campus to a Dr. Who Tardis!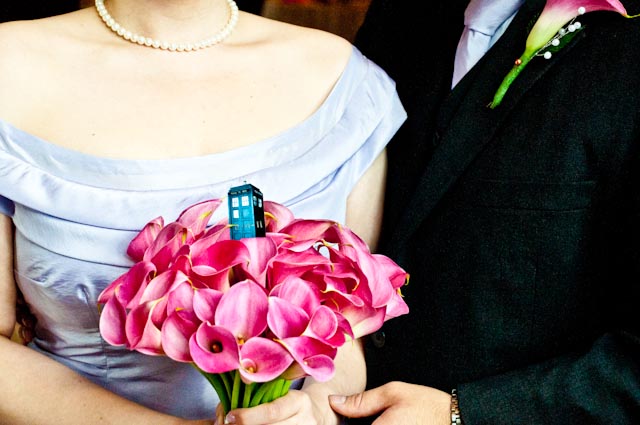 The Something Blue – a Tardis in the flowers!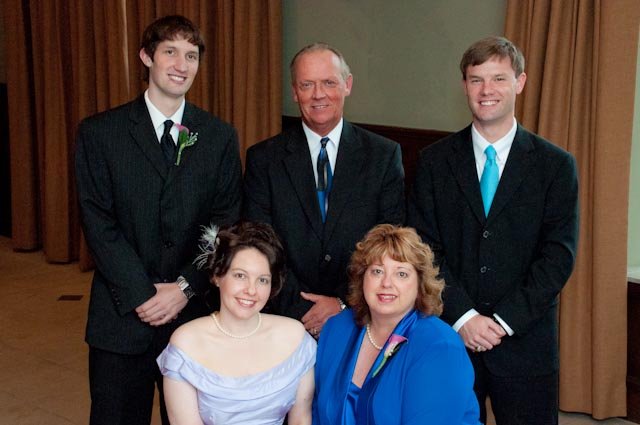 Our Family!
And now for the recipe that I found on Pinterest. I followed the picture to The Girl Who Ate Everything's blog. Click on the link and go take a look, it's a great blog. I changed the recipe just a bit for my family's taste.
Peanut Butter Banana Chocolate Bars
Here are the ingredients: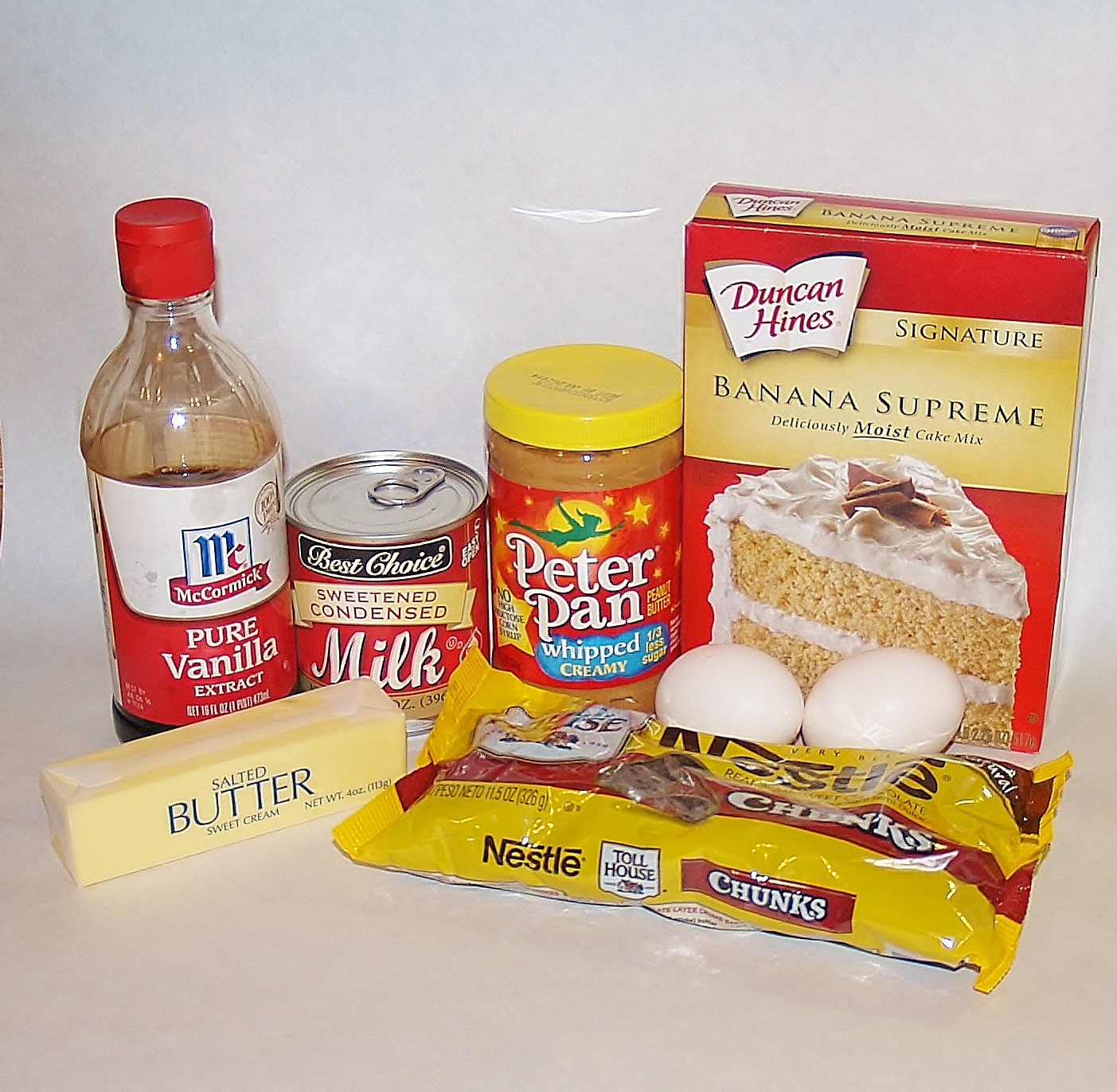 1 box 18.5 ounces cake mix – I used banana but you can use plain yellow if your don't like banana flavor.
2 eggs
½ Cup melted butter plus 2 tablespoons divided
1 bag – 12 ounces – semi sweet chocolate
1 4.5 ounce can of sweetened condensed milk
1 Cup Peanut Butter
2 teaspoons vanilla
Directions:
Mix up the cake mix, eggs, ½ Cup melted butter and peanut butter with a mixer or spoon.
Take out 1 and ½ Cups and press rest into a 9 x 13 pan like this.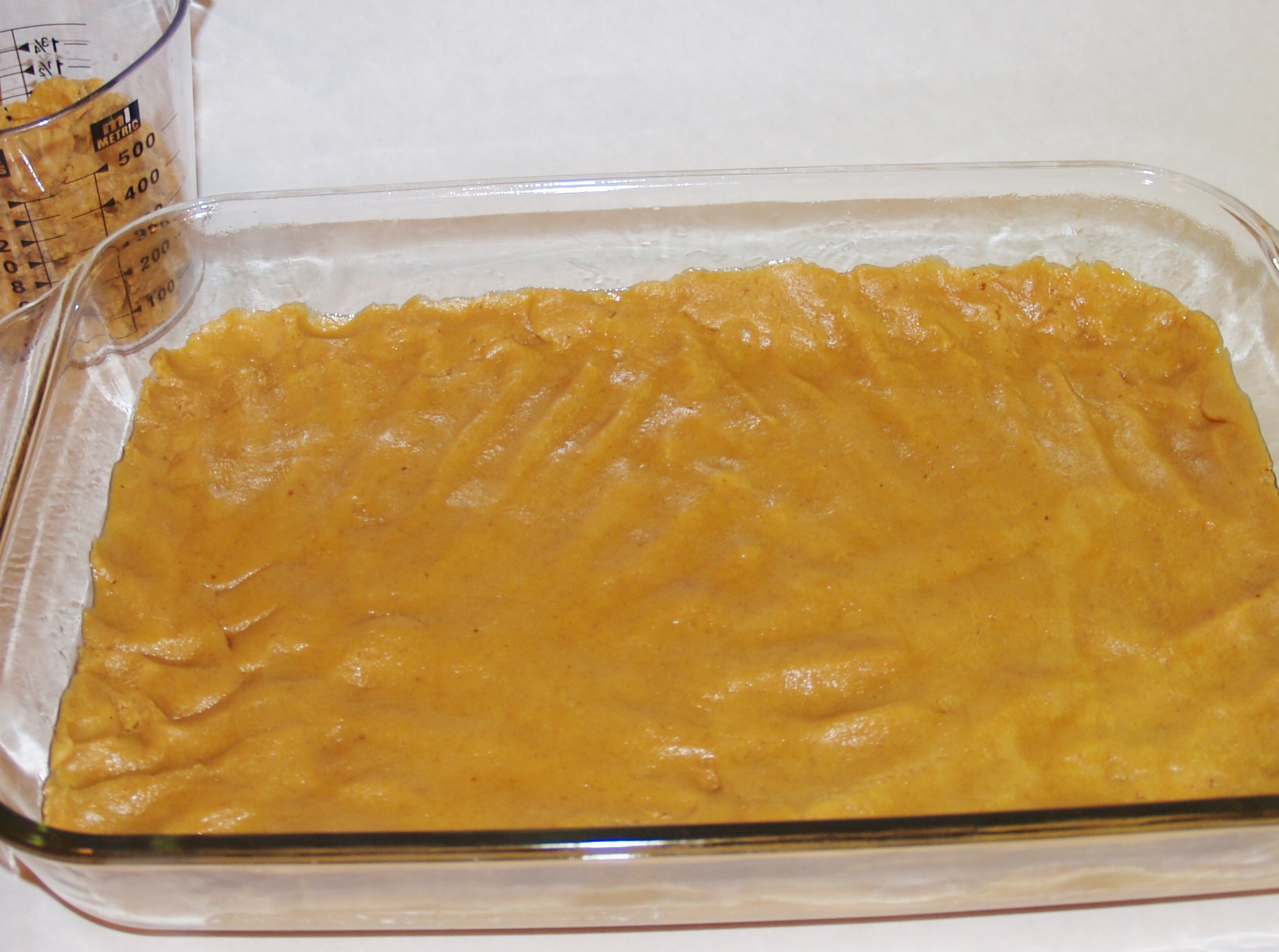 In a small pot on low heat add 1 tablespoons butter, condensed milk and bag of semi sweet chocolate until melted.
Take off heat and add vanilla.
Spread chocolate over pressed cake mix.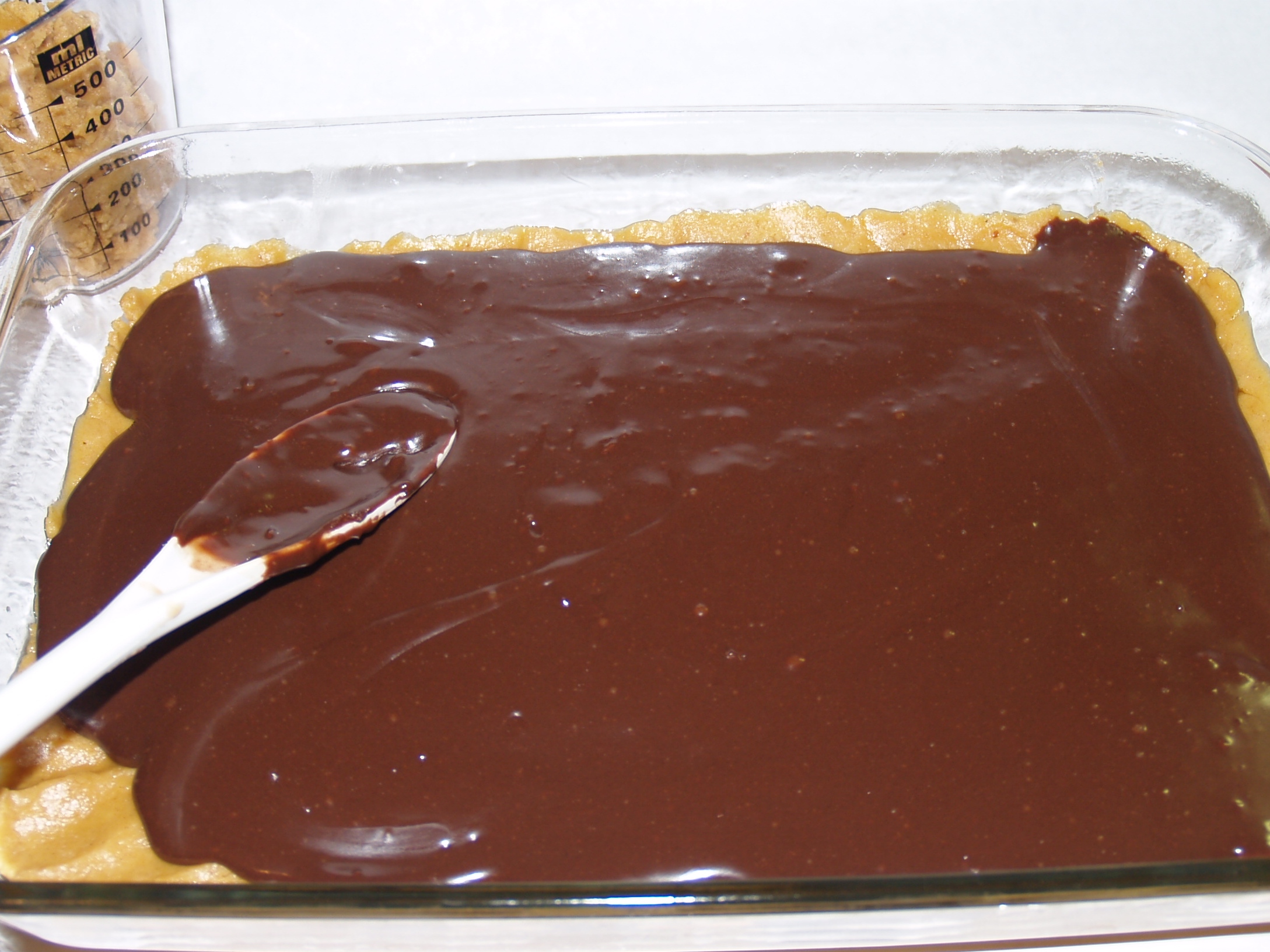 Crumble 1 and ½ Cup leftover cake mix.
Bake in 325 F oven for 20 – 25 minutes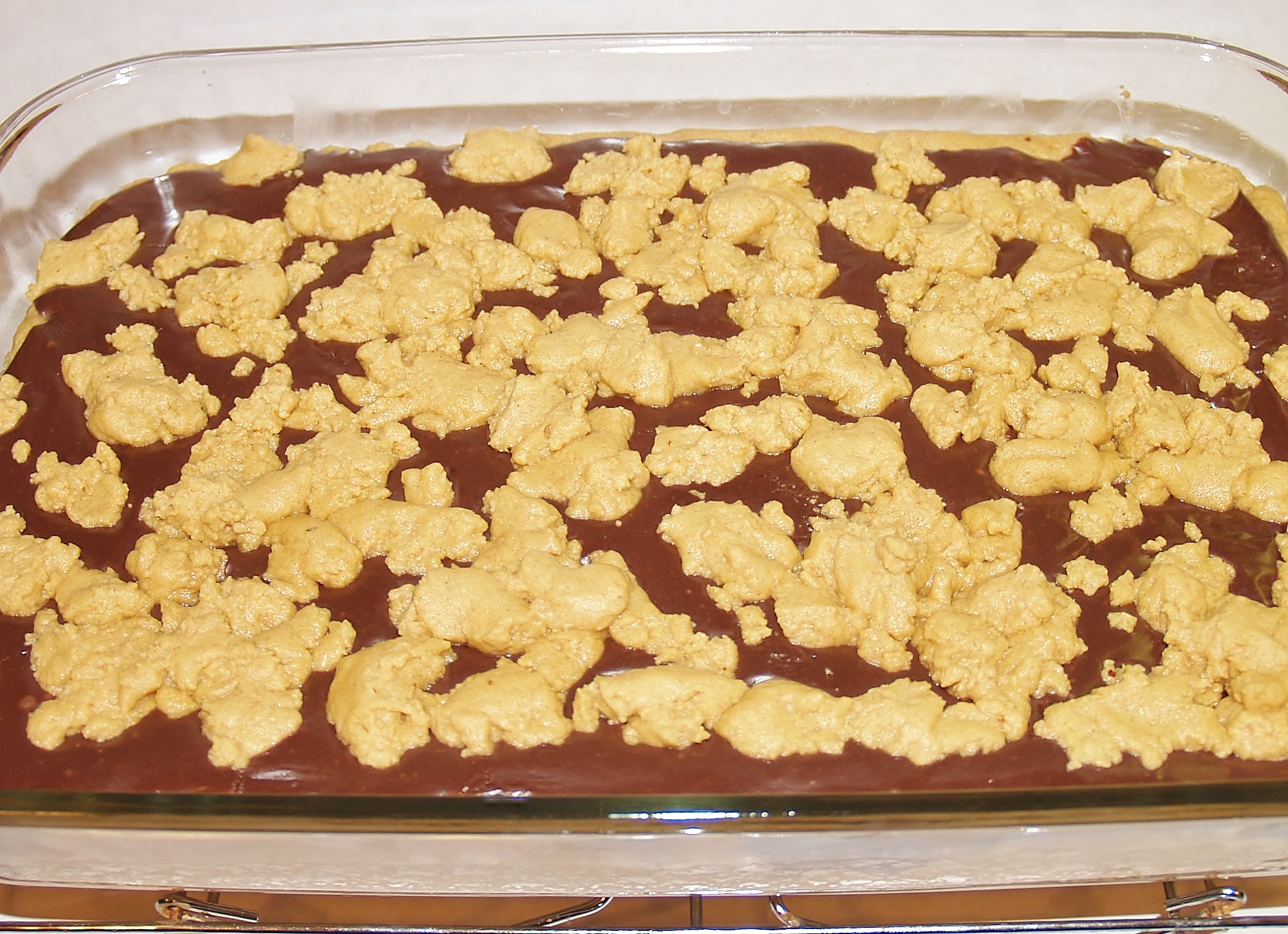 Cool completely before cutting bars.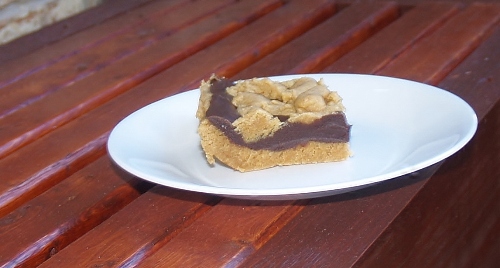 These are one of the easiest and best tasting desserts I have ever made!
I'm Partying at these places: Wednesday Extravaganza!
<img border="0″ src="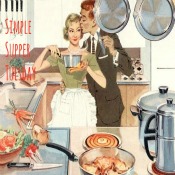 " />