As I have told you, my daughter and I have published a book on Kindle.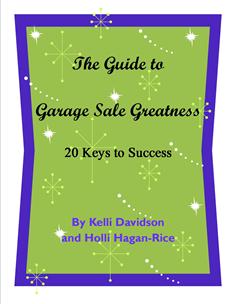 The Guide to Garage Sale Greatness 20 Keys to Success.
The book is about how to have a successful garage sale. We are so happy about publishing; we decided to give away 4 copies (2 on each blog). If you are interested in winning an electronic copy of the book, comment on this post about an experience you have had either having or visiting a garage sale.
My daughter is doing the same thing over at her blog here and you can make a comment on her post here for an additional entry. The contest will run from today to next Sunday and will end at 6:00 PM CST. You have until then to make your comment.
If you don't have a Kindle, that's not a problem! There is a free app at Amazon.com to download on your computer, Android, IPhone, Book Readers, and more. Click here to go to the app.
We will use http://www.random.org/ to choose the winners. Good Luck!!
*We hope that if you win you'll review our book on Amazon.com after you read it!
How to enter and giveaway rules.
Please make sure that we can contact you via email to inform you of your win. Read my Official Giveaway Rules and the directions in this blog post before entering.
Entry/Comments must be made on this blog post.
Comment = 1 entry.
Your comment should be about an experience you've had either having or visiting a garage sale.
Entries must be made between March 4, 2012 and the Entry Deadline Date of 6 PM Central Time on March 11, 2012.