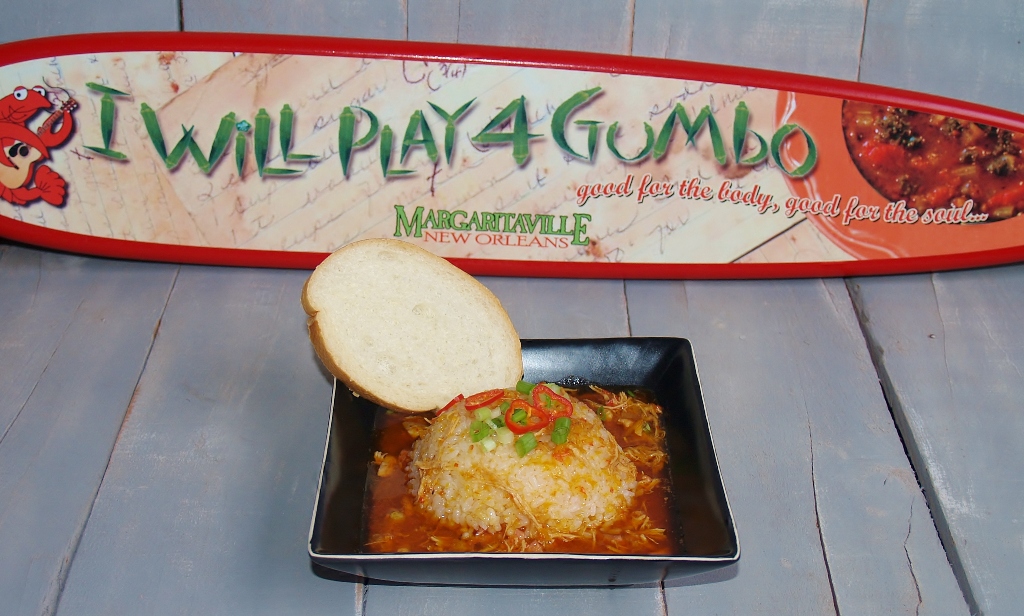 When our oldest son was still an undergrad, he did a summer internship in Lafayette, LA. The hubs and I went to visit him during that summer and had the great privilege of eating at Prejean's Restaurant. While there, I purchased their cookbook and every fall, that son requests I make gumbo during football season. I make two kinds: chicken and sausage (for my husband) and duck and sausage for everyone else. This is the recipe with such great pictures – and it's on a dead blog. I couldn't see it go to waste and decided to reblog it in an attempt to save it. I cannot recommend this recipe enough! I make rice in the rice cooker at the same time and serve it. Then 1/2 cup rice and 1 cup gumbo go into Ziploc screw-top containers and into the freezer for work-day lunches. Fabulous!! This is where you find it – The Pearl Onion
Or, just use my recipe straight from the Prejean's CookBook that I adapted for a smaller amount – a family sized version.
So here is the adapted recipe, using my substitutes to make it more user friendly. I also halved the recipe, but for a family you may want to double it back since this does take time to make and it would be nice to have for another meal. Note that this tastes even better if you let it sit overnight refrigerated. The recipe below makes 2.5 quarts.
Prejean's Gumbo
2 ½ tbsp butter
2 ½ tbsp flour
2 tbsp corn oil
6 oz andouille sausage, sliced into ¼ inch thick circles
1/3 cup coarsely diced onion
¼ cup coarsely diced bell pepper
2 tbsp finely diced celery
4 chicken thighs, skin removed(or 2 large skinless duck breasts)
1 tbsp paprika
¼ tsp black pepper
¼ tsp cayenne pepper
1 small bay leaf
1 ¼ quarts concentrated chicken stock(you can start with 1 ¾ quarts and boil it down to 1 ¼ quarts to make it concentrated, or add a bouillon cube)
1 tsp Kitchen Bouquet(or worchestershire sauce)
2 dashes Tabasco
1 ½ tbsp sliced green onion tops
In a small skillet over medium low heat, add the butter and flour. Stir constantly and thoroughly as color slowly depends in color and reaches a dark, reddish brown. This process should take at the very least 20 minutes (mine took 40 minutes). Remove from heat and pour into a container. Set aside. The color will continue to deepen to a dark, chocolate brown. (Tidbit: You can make larger portions and freeze what you don't need as a short cut for your next gumbo.)
Heat corn oil to hot and maintain heat in a four-quart cast-iron or other heavy pot over medium-low heat.
Meanwhile, in a nonstick skillet over medium heat, brown andouille sausage, then add to oil in the cast-iron pot. Repeat process with onion, bell pepper and celery, then chicken (or duck), sautéing each ingredient individually and transferring each ingredient to the cast-iron pot as it is browned.
Add the paprika, black pepper, cayenne and bay leaf to the pot and stir. Mix in stock. Stir in roux until blended.
Bring to a boil and cook 40 minutes, stirring attentively.
Add Kitchen Bouquet (or Worcestershire sauce), Tabasco and green onions and stir well. Simmer 5 minutes longer.