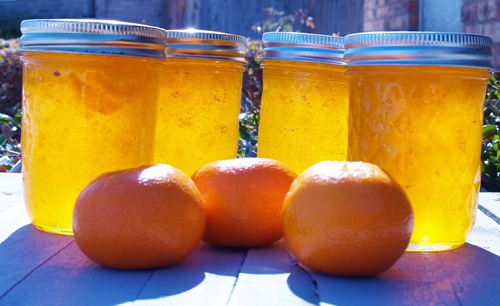 When I first started canning, I often wondered what the difference between jelly, jam, marmalade was. Then, I was introduced to the term conserve and could not figure out what the heck that was and how it fit into my sweet biscuit topping world! I searched the internet and found most information to be less than vague. Here I will do my best to give you my interpretation of each.
Jelly
Jelly is the juice from fruit. No pulp is involved. When you simmer your fruit in order to make up jam, there is the "water" left over. It is very simple to make jelly. I prefer to strain the juice, sometimes several times, through a cheesecloth getting every single bit of pulp out. The mark of excellent jelly visually is that it is a clear as possible.
Jam
Jam is made from the pulp of the fruit. Oftentimes you must simmer the fruit and then send it through the dunce cap strainer to remove any skins or seeds. It makes for a very smooth jam which I like for the most part, however, I do like chunks of fruit in some. It just depends on your tastes.
Marmalade
Marmalade is made from the pulp, juice, and zest of citrus fruits. In making orange marmalade, some people use the entire orange very thinly sliced with a mandolin. I do not prefer that texture. Instead, I peel the orange, peel the colored part off of the white part, thinly slice the zest, section the oranges taking them out of the membrane they are encased in and use only the juice, pulp and zest. It is smoother on the palate. Either way is fine, but if you are making your own, may as well do it the way you like it!
Conserve
Conserve, this is a little difficult to explain. Some people say a conserve is any jam made with two or more fruits. To me, that is just jam. I believe that a conserve is a fruit jam or jelly with nuts in it. My favorite is cherry pecan, which I won a state fair blue ribbon for this year. My other favorite is pineapple, coconut, almond. I won a county blue ribbon for that one this year. The thing about conserves, as I define them, is that as it sets up you must gently shake it and turn it upside down/right side up about every 10 minutes until it is completely set. This evenly distributes the almond slivers and coconut flakes throughout the conserve. If you do not take this extra step, they both will end up at the top of the jar and you'll only get that great taste at the beginning.
So, there you have it. Do your interpretations differ from mine? If so, tell me how and maybe you will win me over!