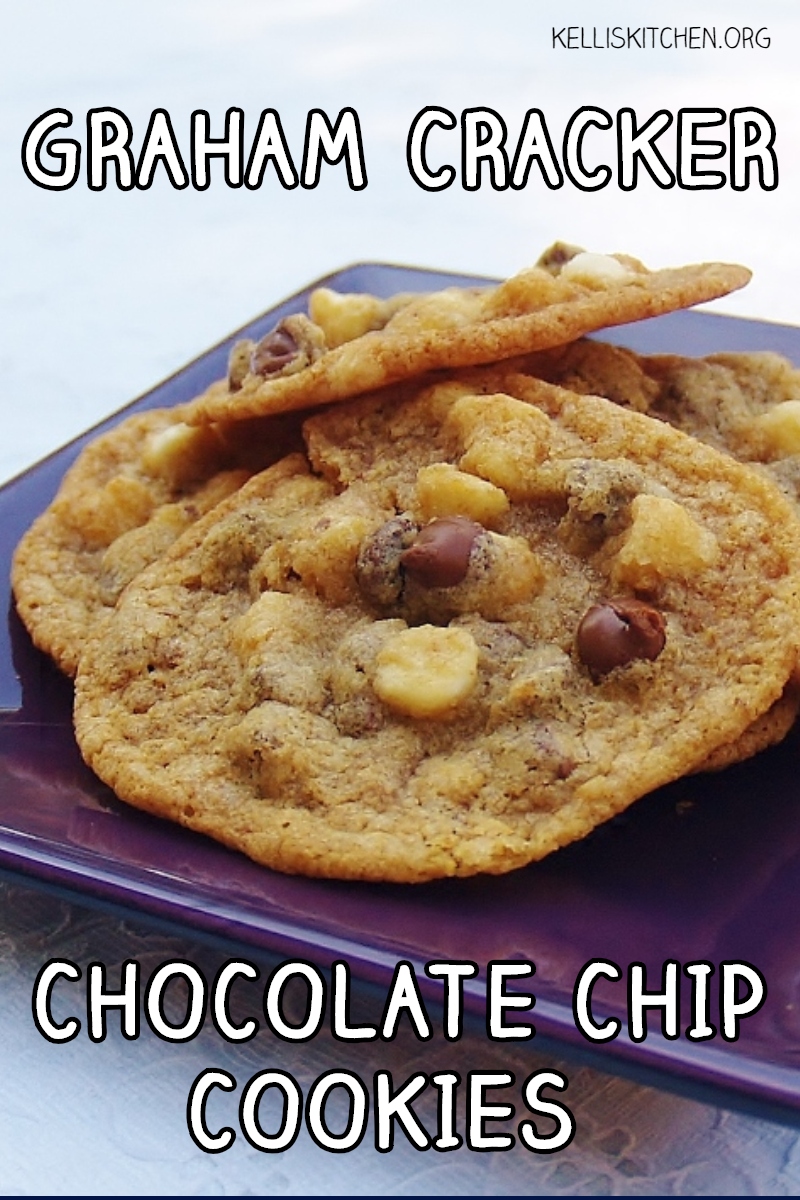 Guess what day it is? Yep, Cookie of the Month Day! This month's ingredient is Chocolate Chip because Friday, May 15 is National Chocolate Chip Day this year. I made a special recipe with both dark and white chocolate chips as well as graham cracker crumbs. They are very thin and crispy with melty chips all around. At the bottom you will find all the cookie recipes from all the participants and you will also be able to find many of them over at Yum Goggle where we have accumulated 2000 recipes to date with nearly 100 new submissions per day!
I took this picture Sunday morning of the beautiful iris out by our mailbox – aren't they pretty?
Back in the 80's, I had a box of Keebler Graham Crackers that had recipes on the back one of which was Graham Cracker Cookies. I lost it over the years but I loved 'em and here's my best rendition with the addition of white chocolate chips. Check out my really cool Keebler Cookie Jar!
Graham Cracker Chocolate Chip Cookies
Ingredients:
1 ¼ Cups All Purpose Flour
1 Cup Graham Cracker Crumbs, finely processed
1 teaspoon of baking soda
1 teaspoon salt
1 Cup (2 sticks) unsalted butter, softened
¾ Cups Brown Sugar
¾ Cups White Sugar
1 Teaspoon Vanilla Extract
2 Large Eggs
1 ½ Cups semi-sweet Chocolate Chips
1 ½ Cups White Chocolate Chips
Directions:
Preheat oven to 375F.
Measure flour, graham cracker crumbs and baking soda into a bowl. Mix together.
Into a large mixing bowl cream both sugars and butter until light and fluffy.
Add eggs one at a time, mixing well.
Mix in vanilla and salt.
Stir in both kinds of chocolate chips.
Using a cookie scoop or Tablespoon, drop dough onto parchment paper or greased baking sheets.
Bake for 9-11 minutes or until brown around the edges, remembering cookies cook a bit more after taking out of oven.
Allow to cool about 5 minutes then move to wire cooling rack.
Makes exactly 5 dozen cookies.
They are salty and sweet at the same time tasting like graham crackers and chocolate without the marshmallow. These cookies are also very crispy – just like my daughter prefers!
Now – check out these mouthwatering cookie recipes below!
http://www.bakeorbreak.com/2015/05/corn-flake-chocolate-chip-cookies/