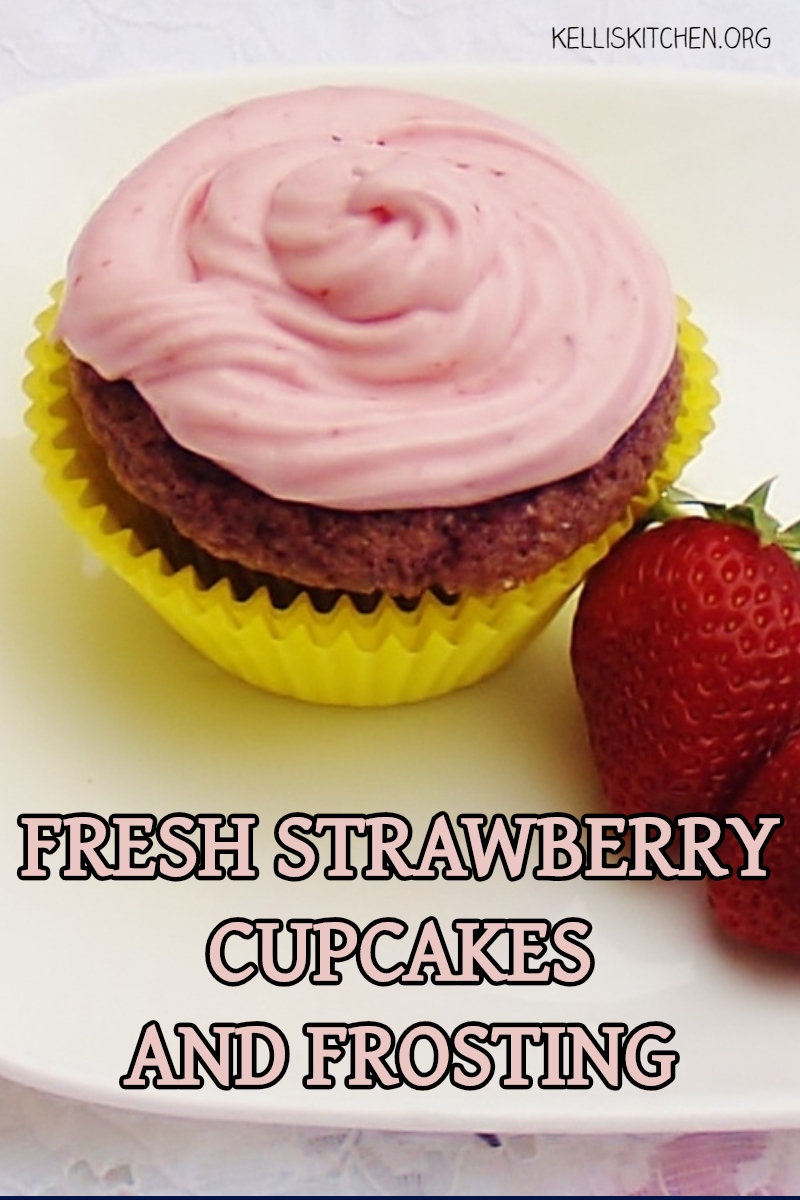 Hi all! It's a great nice spring day and it's also our monthly Blogger CLUE Society post. The theme this month is fresh fruits or vegetables and I drew Lemons and Anchovies blog. If you remember, using the theme I am supposed to choose a recipe to make exactly like the original poster made his or hers. I was happy to make these fresh strawberry cupcakes – the recipe she got from Sprinkles Cupcakes with fresh strawberry frosting from the Joy of Baking. We enjoyed these cupcakes very much and they were perfect to make because it is now strawberry season in Oklahoma! At the bottom, check out all the posts and see how got me and what they made – I'm always excited to discover a new blog and see who discovered me.
Jean is the owner of Lemons and Anchovies Blog living with her husband in San Francisco. They love to travel and try new dishes wherever they are. These particular cupcakes were made during the summer of 2011 when her niece and nephew were visiting. She made an improvement that I followed and will show you here – please check out her blog because it is a lovely place to visit with all kinds of wonderful recipes.
Fresh Strawberry Cupcakes and Frosting
Ingredients:
2/3 cup fresh or frozen whole strawberries (thawed if frozen) (plus 3 or 4 chopped to add to batter, optional)
1 1/2 cups all-purpose flour , sifted
1 tsp. baking powder
1/2 tsp baking soda
1/4 tsp. coarse salt
1/4 cup whole milk , room temperature
1 tsp. pure vanilla extract
1/2 cup (1 stick) unsalted butter , room temperature
1 cup sugar
1 large egg , room temperature
2 large egg whites , room temperature
For the Frosting:
8 ounces cream cheese, cold
5 tablespoons softened butter
2 tablespoons vanilla extract
(scant) two cups powdered sugar
2 tablespoons fresh strawberry purée
Directions:
Preheat oven to 350°and Line muffin tins with baking cups
Blend strawberries in a food processor leaving about 1/3 cup of puree.
In a medium bowl, whisk together flour, baking powder and salt.
In a small bowl, mix together milk, vanilla and strawberry puree.
In the bowl of an electric mixer fitted with the paddle attachment, cream butter on medium-high speed, until light and fluffy.
Gradually add sugar and continue to beat until well combined and fluffy. Reduce the mixer speed to medium and slowly add egg and egg whites until just blended.
With the mixer on low, slowly add half the flour mixture; mix until just blended.
Add the liquid mixture; mix until just blended.
Slowly add remaining flour mixture, scraping down sides of the bowl with a spatula, as necessary, until just blended.
Divide batter evenly among prepared muffin cups.
Bake until tops are just dry to the touch, 22 to 25 minutes.
Cool on a wire rack and let cupcakes cool completely before frosting.
Using a hand mixer, beat the three ingredients together until well combined. Gradually add the powdered sugar as you continue beating the mixture.
Add extra powdered sugar until the frosting is stiff and not runny
Finally stir in the strawberry purée.
When the cupcakes have cooled to room temperature, add the frosting.
I stored my in the fridge overnight before serving and we liked them very much!
Check out all the great recipes below and enjoy these cupcakes – thanks Jean!