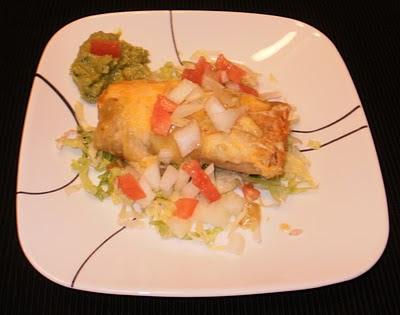 Such a busy weekend ahead. Finishing up the Micro-canning eBook as well as formating and uploading the Guide to Garage Sales eBook. There will be little time to cook. Since I don't do it that well anyway, I doubt anyone complains! I am going to use one of my fall-back recipes that everyone loves! I have always called it Burritos the Easy Way. Back when I was a single mom and going to college I had to watch every penny. I was also on Weight Watchers regularly so anything I bought at the grocery store had to be cheap, easy and low in points. There's a new point system now I hear, so I'm sorry I don't know the exact point count but it is low…if you fix it like the picture above. If you use the chili, instead of enchilada sauce, it will not be low in points, but it will taste very good! Enjoy!
Burritos The Easy Way
• 1 bag of frozen burritos
• 2 10 oz. cans of enchilada sauce or,
• 1 brick of refrigerated chili – found in lunchmeat case**
• Onion – Chopped
• Lettuce – Chopped
• Tomato – Chopped
• 1 Cup Shredded cheese
• 1 Cup Salsa
• 1 small bottle Catalina dressing
***Use enchilada sauce for a lighter menu and chili for a more hearty meal. ***
Directions
1. 9×13 pan or 8×8 pan depending on how many burritos you plan to use.
2. If using the entire bag of burritos, put half of 1 can of enchilada sauce in the bottom of 9×13 pan. Spread the sauce over the entire bottom of pan. Then place all the burritos in pan. Pour the rest of the first can and the entire second can of enchilada sauce over the burritos.
3. If using six or less, use the 8×8 pan and only one can of enchilada sauce. Use half on the bottom of the pan half over top of burritos.
4. Cover with foil. Place in oven at 350 degrees for 45 minutes. Remove foil and sprinkle with cheese placing dish back in oven without foil for 15 minutes. Remove from oven and put foil back over pan for a few minutes.
5. Chop onion, lettuce, tomato.
6. Using spatula, lift out burritos allowing everyone to put their favorite veggie toppings along with salsa, or my favorite, a squirt of Catalina dressing.
7. These will be the tenderest burritos you will ever eat with none of those calories you get when frying them! Enjoy!
I generally use 1 can of mild green enchilada sauce and 1 can of hot for my husband and me. If the boys are coming, I use 2 cans of hot enchilada sauce. A few in our family like only red enchilada sauce and use it and one of the members of our family like one can of green and one can of red so sometimes we accommodate him. This is a very easy recipe that takes only minutes to get cooking.