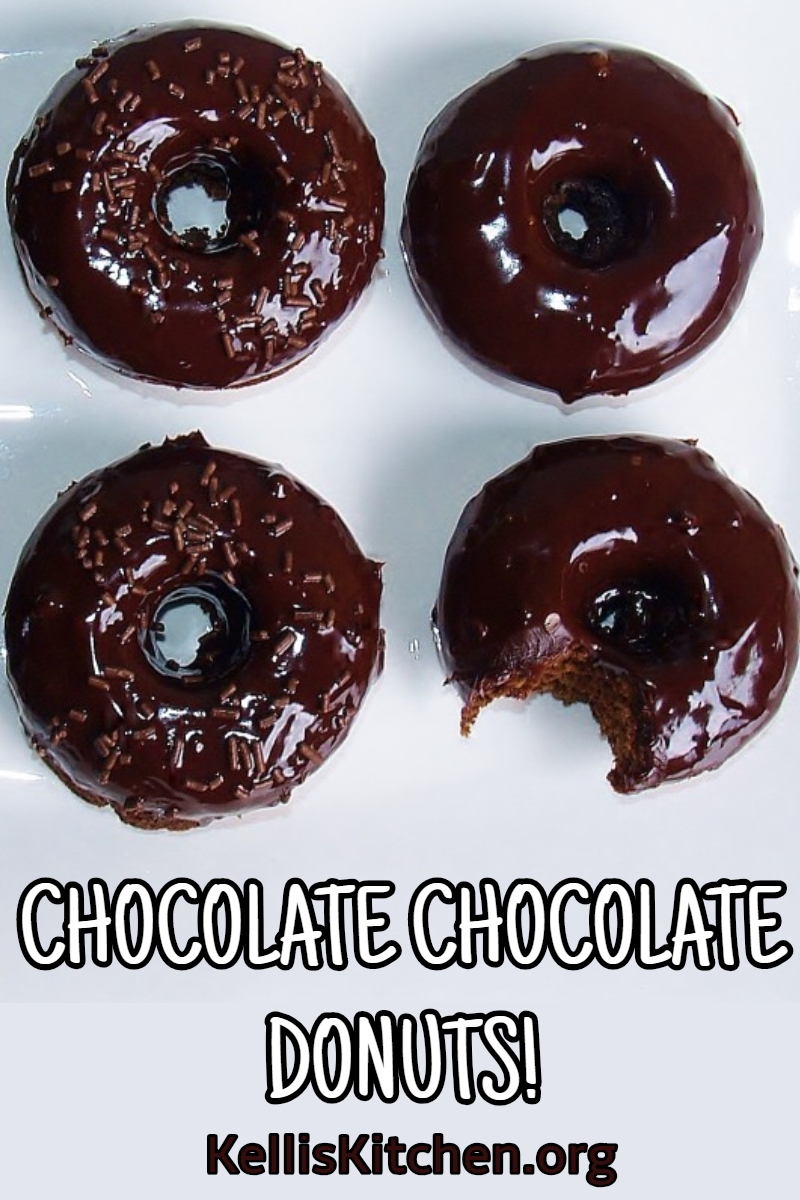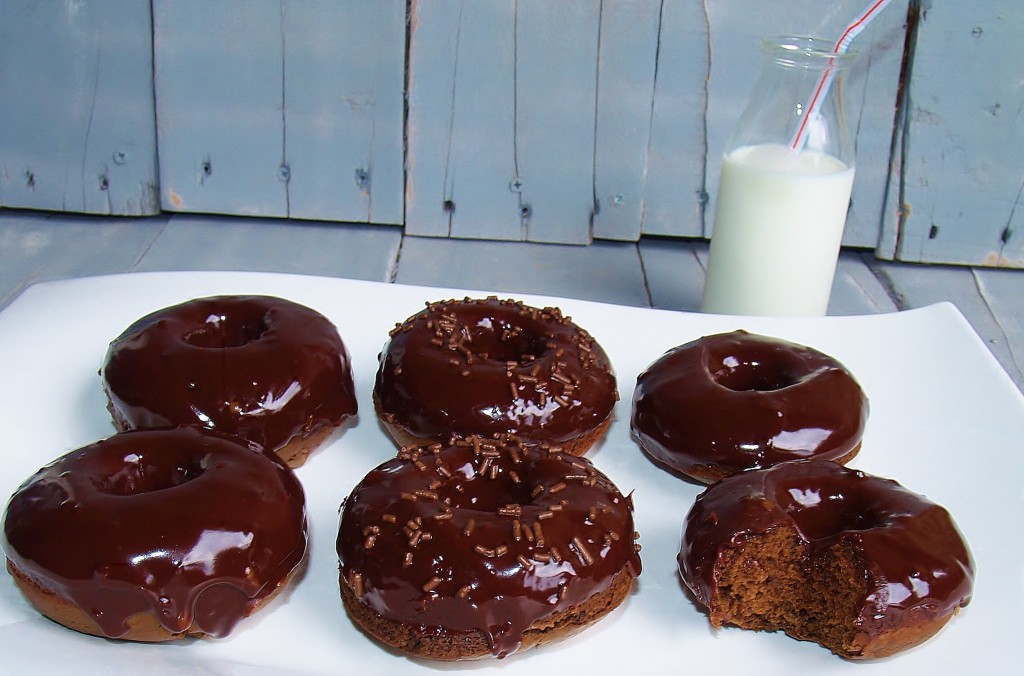 Do you know what a chocolate chocolate is? Where I'm from it is a chocolate cake donut with chocolate icing and it is my favorite donut on the face of the earth! Sometimes on Sunday mornings Mr. Picky Eater will announce he is going to the donut shop for a special treat. He doesn't even ask me what I want anymore because he knows it is the chocolate chocolate – that's how you ask for it at the donut shops too! Rocket will take a dozen donut holes and MPE likes the glazed twists. I have wanted a donut pan for some time now and finally got one. Right away, I made these donuts and they were delicious! I added cocoa powder to make the recipe on the cardboard wrapper around the pan to make them chocolate and made my chocolate ganache recipe that I got from my friend Joan at Chocolate chocolate and more blog – put sprinkles on a few and we dug in! These make giant donuts so next time I won't fill the pan so much but other than that, I was thrilled with the outcome.
Before we get to the recipe, I want to show you a couple of repurpose projects the hubs and I have done lately. First, we picked up this card table and two chairs at a yard sale and then two more chairs to make this set. We painted them all and used a shower curtain to cover the chair seats and table top. What do you think? The instructions are over on Hometalk.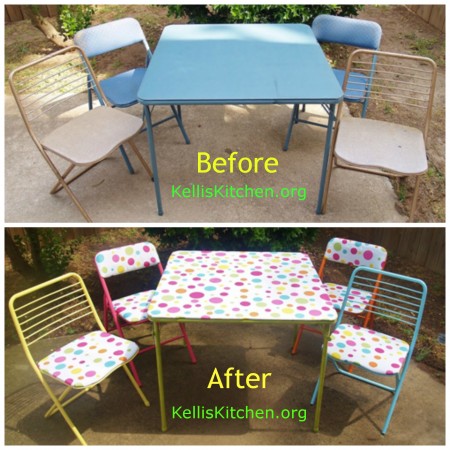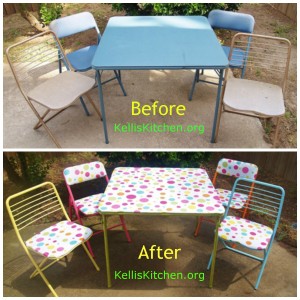 Next is the most controversial post I have ever made. Some of the folks on Hometalk (Top Girl calls them Flamers) called me a heretic and pretty much a communist for violating the sanctity of these cameras but let me preface the picture by saying this: I have 12 of these exact cameras that are in my collection of vintage cameras, they no longer worked and were pretty scratched up, I chose pink because those are the colors I had, and I was not trying to make any kind of statement by painting them……..I also do not consider myself an artist, just creative and this creation looks pretty good to me. One person said it looked like cheap plastic now – ha! Those cameras ARE made of cheap plastic so I guess they look exactly like what they are!! Check it out for youself here.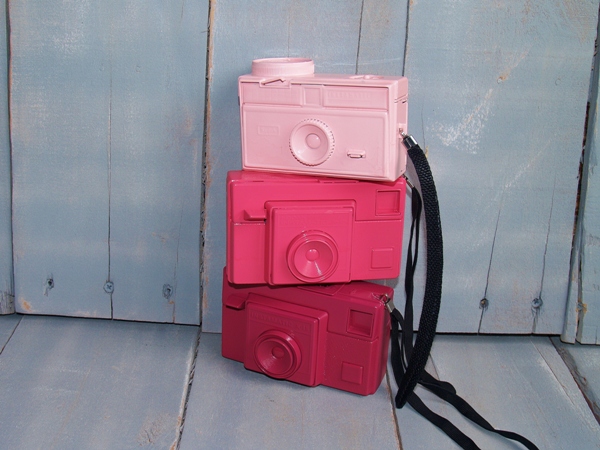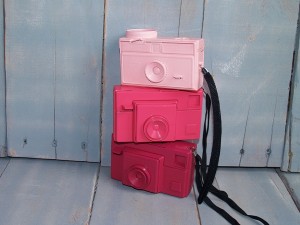 Now on with the recipe!
Chocolate Chocolate Donuts!
Ingredients:
2 Cups of all-purpose flour
¾ Cups sugar
½ Cup cocoa powder
1 teaspoon baking powder
1 teaspoon baking soda
1 teaspoon ground cinnamon
¾ Cup plus 2 Tablespoons milk
2 eggs
2 Tablespoons of melted butter
1 teaspoon of vanilla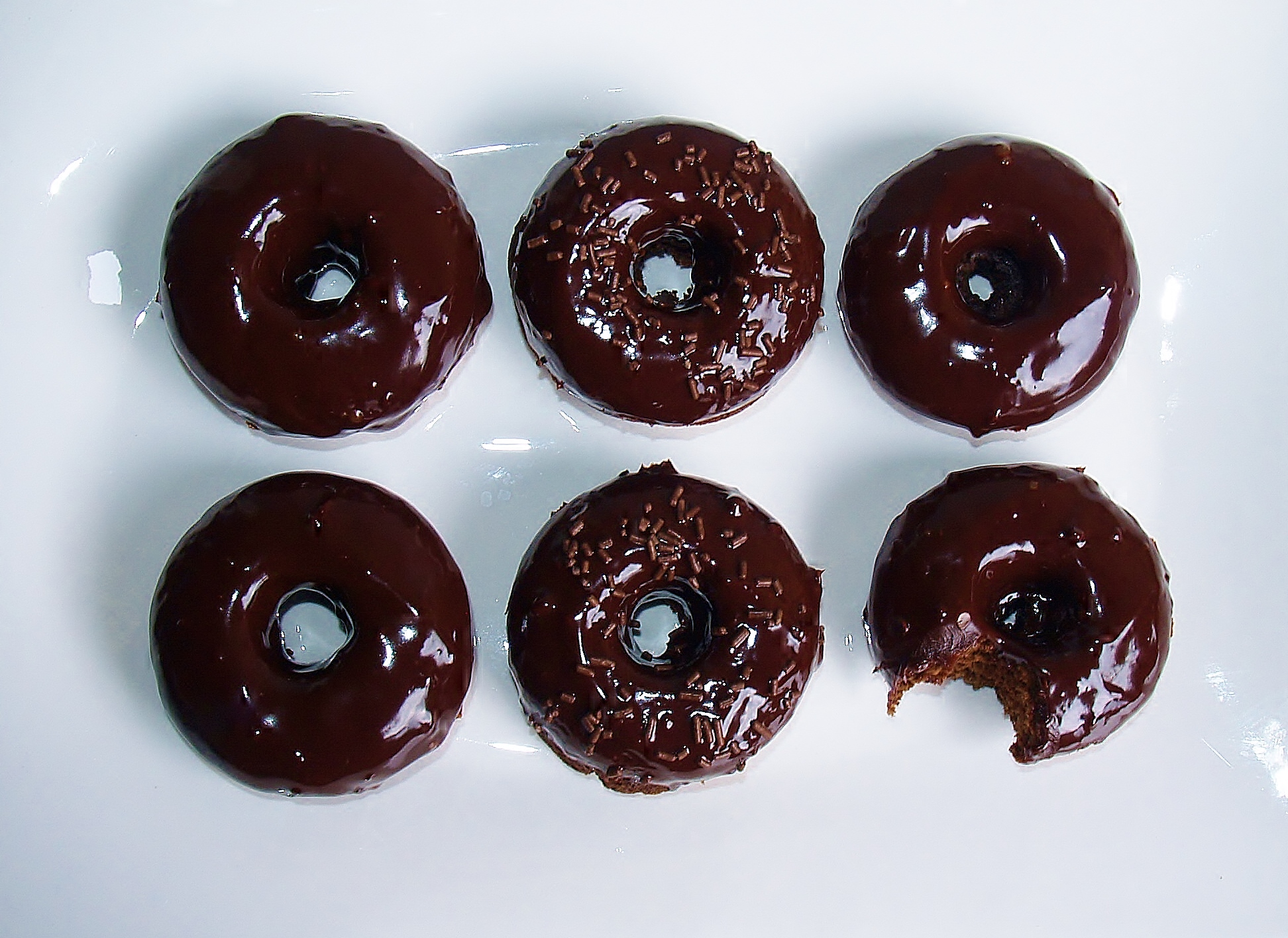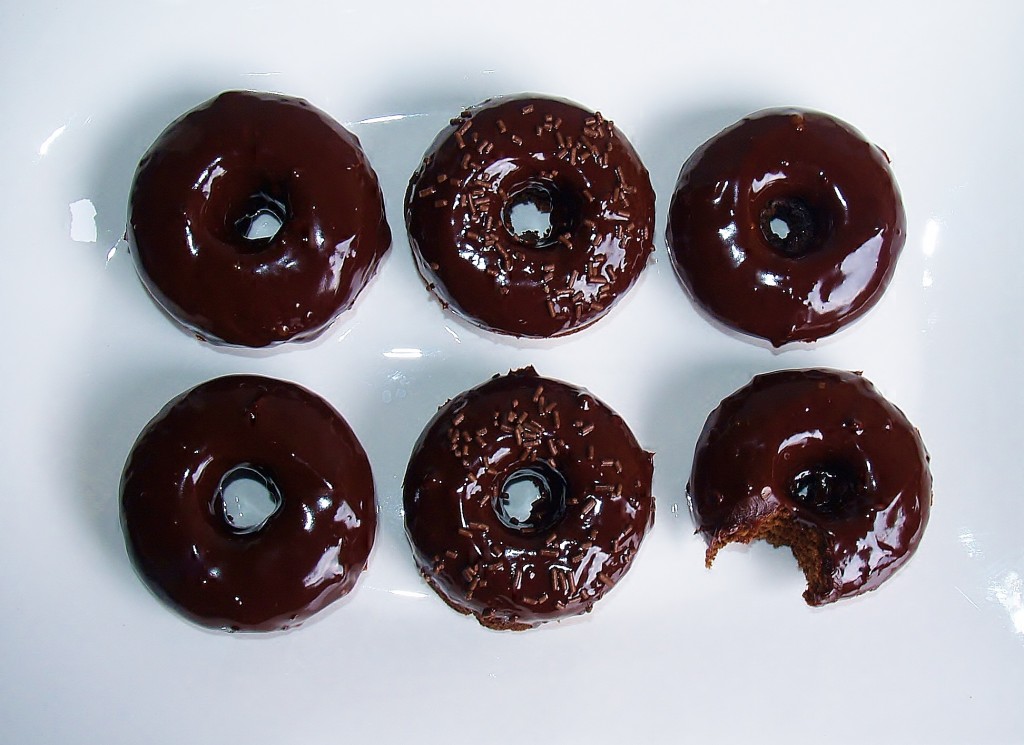 Directions:
Preheat the oven to 325F.
Put all the dry ingredients in a bowl and whisk them up.
Using a mixer add the eggs, milk, butter and vanilla until well blended.
Spray your donut pan with non stick spray.
Get a gallon size plastic bag and put the (rather thick) batter inside.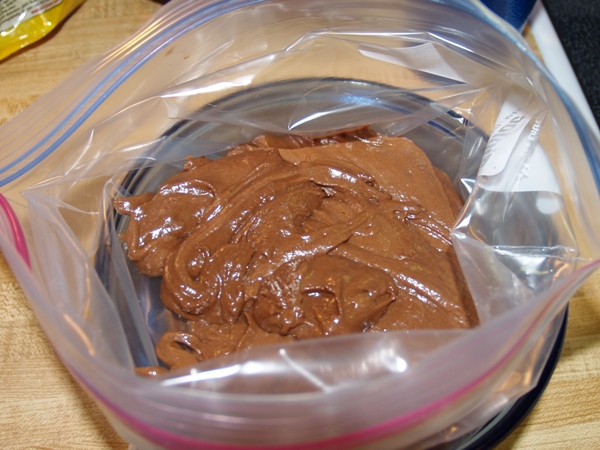 While the first batch is baking, you can rest it like this: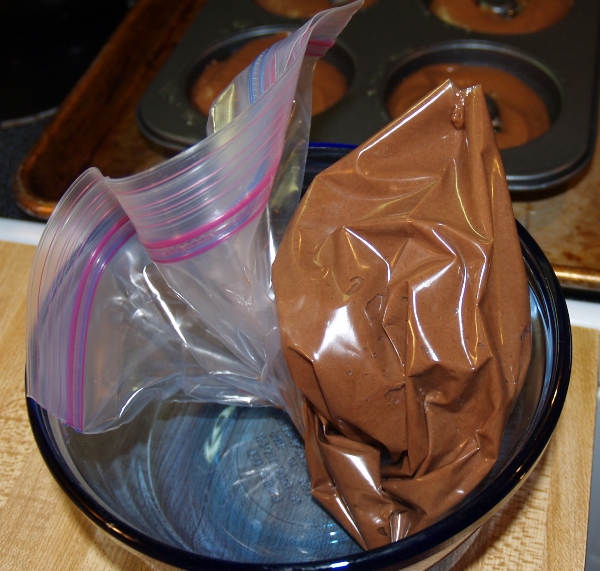 Snip off the corner and pipe in the batter to 2/3 full – I'm going to do ½ full next time.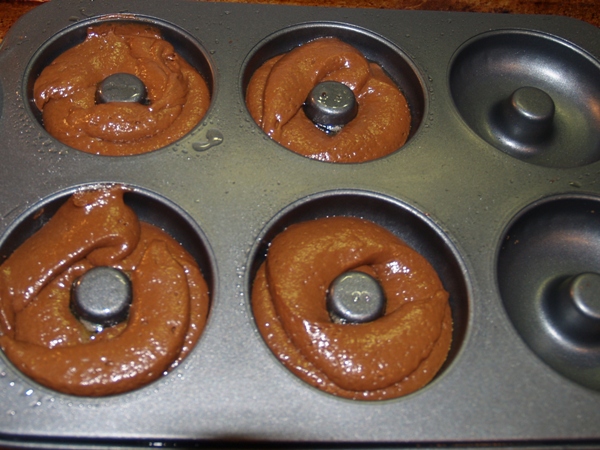 Put on a cookie sheet and place in oven for about 20 minutes, depending on your oven….Keep checking until a toothpick comes out clean.
Take them out and let them set a few minutes before you flip them out.
Let them cool completely, make this fabulous and very easy ganache recipe – for which you will get the cake and Devonshire cream recipe as well – go ahead and admire that cake of Joan's, as I do……probably more than I should!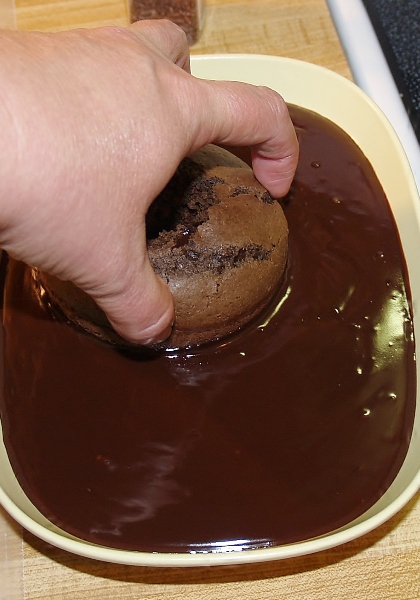 Let them set up and enjoy!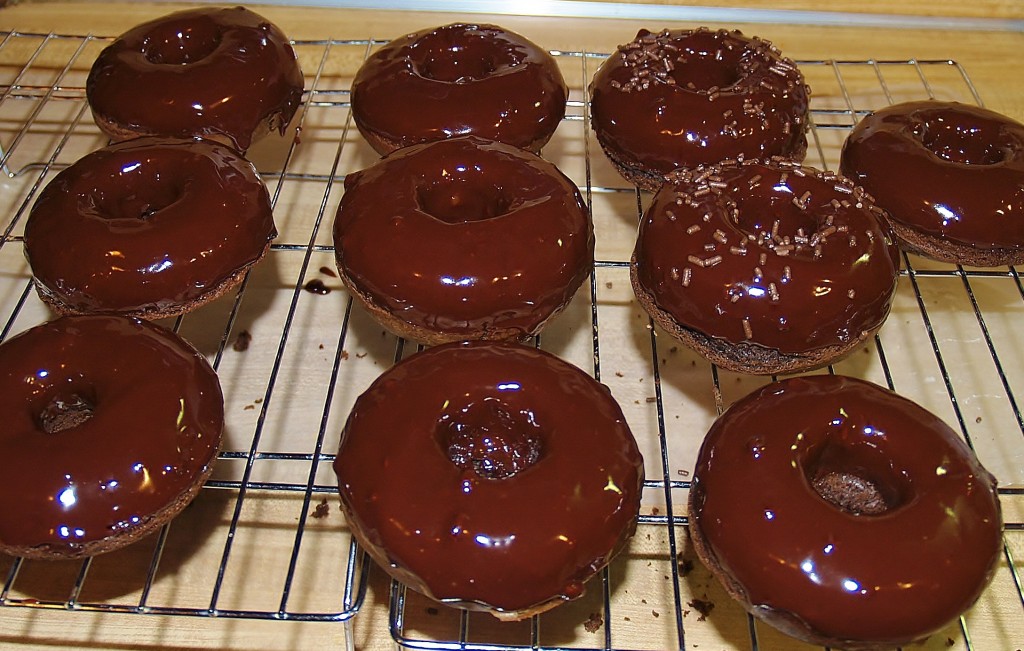 By filling 2/3 full I got 10 donuts.
Store in the fridge because of the cream in the ganache.