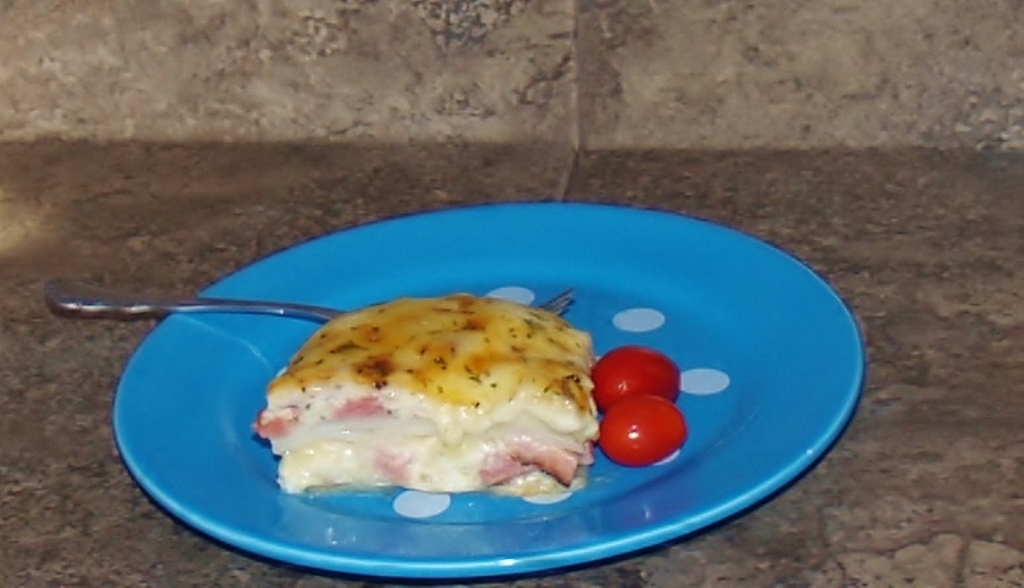 This post is the recipe for one of the tastiest dishes ever:  Ham and Scalloped Potatoes which is perfect for any leftover ham.  My family absolutely covets this meal, even my mother, which is simple and not in the least bit spicy.  The combination of ham bits and fresh potatoes with cheese is irresistible making it doubly difficult to allow the pan to cool completely in order to take a decent picture!  I apologize for that and hopefully there will be one square of it left tomorrow morning so I can take a proper picture.  The one above was taken with three people, one of them Rocket, standing behind with spoon and forks in hand waiting to tear it up as soon as the flash was complete.
***By the way, you are familiar with Fave Southern Recipes, right?  I LOVE them – they feature my recipes over there all the time and have other fabulous, southern recipes you may remember or want to try.  They are having their 1st Birthday celebration right now and if you click this link you can enter to win FOUR cookbooks!  One of them is by Trisha Yearwood – I love her but all the books are wonderful.  Even if you don't enter the giveaway, check them out – you'll love 'em!
While we have non-traditional food at Christmas, Top Girl's mother-in-law does not, sending home ham and prime rib from their party Christmas night.  The request came right away to make "the ham and potato thing".  Wait till you see what I make with the prime rib.  As it cooks in the oven, I have a moment to write this post in between taking care of several people in the house that have the flu.  It is tough when everyone takes the flu shot yet gets a really rough version of it right here at Christmas and New Years.  I have been using the Lysol and hand sanitizer like a mad woman trying to stave it off – I do not want it!
This recipe originally came from The Pioneer Woman and while I made some simple changes, it was not enough to call it "adapted" and besides, when it's good as written, why not give credit where credit is due?  If you would like to see her make the recipe you can watch her TV show episode called "Gathering Bulls" or click on the link above or just read further in this post!
Ham and Scalloped Potatoes
Ingredients:
3 Cups cooked and chopped ham
2 Cups Monterrey Jack cheese, shredded
1 Cup Parmesan Cheese, shredded
1 ½ Cups Heavy Cream
1 ½ Cups Milk
2 Pounds Russet Potatoes, scrubbed
1 Onion, chopped
1/3 Cup Flour
4 Tablespoons unsalted Butter
Salt & Pepper to taste
Directions:
Melt butter in pan adding chopped onions and cook for a few minutes until onions are soft.
Sprinkle flour over onions stirring and cooking until all are golden brown.
Add heavy cream and milk whisking until well mixed continuing to whisk until it has reduced to a thick sauce.  Remove from stove.
Peel (if desired) and either slice potatoes very thin or use a mandolin – I use a mandolin. Place in a bowl of cold water.
Drain water from potatoes and then place on paper towels to take excess water out.
Butter 9×13 or two 9×9 pans thoroughly.

or this –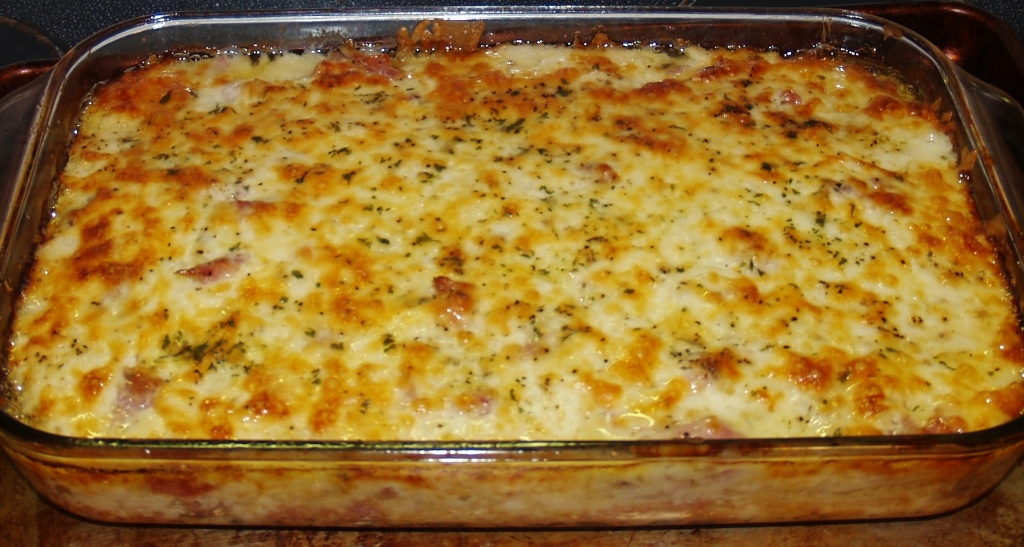 Put half the potatoes in the bottom of the pan.
Spread out half the chopped ham on top of potatoes.
Pour in half the sauce and try to spread it around a bit.
Sprinkle half the Monterey Jack cheese on top.
Then follow with another layer of potatoes, ham, sauce, Monterey Jack cheese finally sprinkling the Cup of Parmesan cheese on top of that.
Although not called for, I sprinkle black pepper and parsley on top.
Cover with foil and bake for 40 minutes in a pre-heated 375F oven.
Remove foil and bake for another 30 minutes allowing cheese to brown.
Set dish out of oven, loosely recover with the foil and allow it to sit for about 10 minutes and then serve.
I have never seen a dish I make be eaten so quickly!
This can also be cooked, cooled and then covered tightly with foil and put in the freezer – it still turns out beautifully.
Since we have ham at Thanksgiving and Easter we have it at least twice per year but if we are lucky, we will have it three times…….like this year!