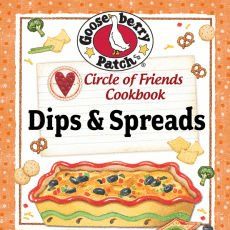 I copied this from Gooseberry Patches FB page:
FREE EBOOK ALERT!
Download our 25 Dips & Spreads eBook for FREE for a limited time only! Click over to our landing page to see which of the sellers have updated their price already and, if your reader is still showing 99 cents, stay tuned!
EVEN IF YOU DON'T HAVE AN EBOOK READER, you can still enjoy this freebie. Download the free reading app from Amazon and it's like having a Kindle right in your computer…there's even a version for mobile devices too!
Hurry! You never know when it will be over. It was just announced 3 hours ago so I'm pretty sure it will be good for 24 hours. Great recipes – I promise!